The Marines have fielded what is considered by professional operators and Marines in the field, to be the best sniper rifle in the world, the XM3.
This new weapon was pushed through the usual beaucratic red tape by an agency called DARPA (Desfnse Advance Research Project Agency), an agency that gets things done in a hurry when needed.
The weapon is build entirely by IBA (Iron Brigade Armory, headed by veteran snipers Roy and Rocky Chandler) with prime parts from Remington, McMillian, Hart, and Nightforce (NXS). It has a Sure Fire supressor, and a new UNS (Universal Night Sight) with non-critical mounting on a Picitinny rail. The barrel is only 18.5" long (six groove, 1/10" twist), and with the supressor mounted, is very handy in the field, and has sub MOA accuracy out to 1000 yards, effective to 1200 yards, and is chambered in 7.62 NATO.
Early SITREPS from firefights indicate that we own the night with this weapon out to 800 yards with one shot kills (at night!), and one particular rifle with two operators has already logged just over 100 confirmed in only four months. All operators questioned say they love the rifle, as it also is about 6lbs lighter than the old M40A3 fully equipped. Standard ammo is Black Hills Match 175gr or Federal Gold Medal Match 175gr.
Note from the photos that the UNS does not have to be mounted any particular distance from the objective lens of the scope, nor does it need to be directly in line. Quite an advancement in night scopes compared to the old Starlight scopes we had in the 60's in Viet Nam.
Below are some photos of the new weapon, sorry for the poor quality, but I had to scan them from actual photos. If you want more on this new rifle, Precision Shooting has the full scoop in this months issue.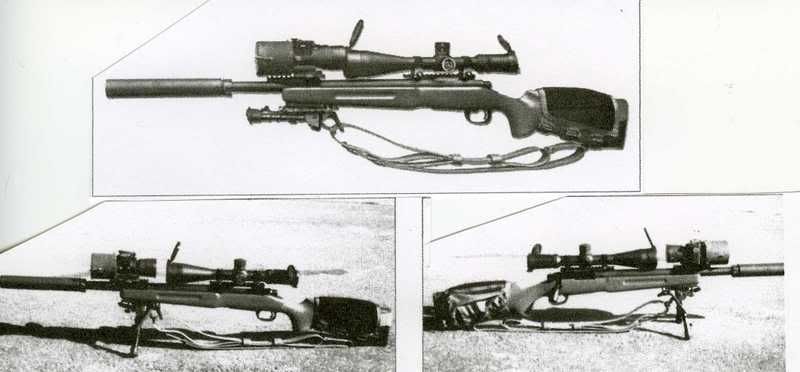 Let's hope this weapon is produced in mass for our troops. The Army MAY get the XM3 too, but by the time that particular branch approves and procures, the action in the middle east may well be over. At least our Marines have some now to counter the insurgent threat.